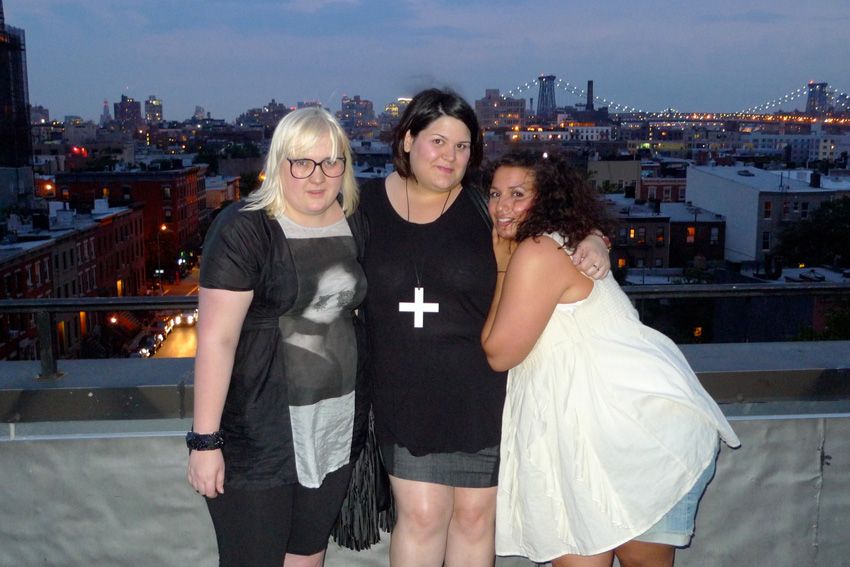 Nicolette
(middle) lives in the most fabulous NYC style loft in Williamsburg, exposed brick walls, dark floorboards and a galley kitchen, oh I was in love. This photo was taken on her rooftop with a view of Manhattan and the Williamsburg bridge.
Sakina
and I were in awe of the view.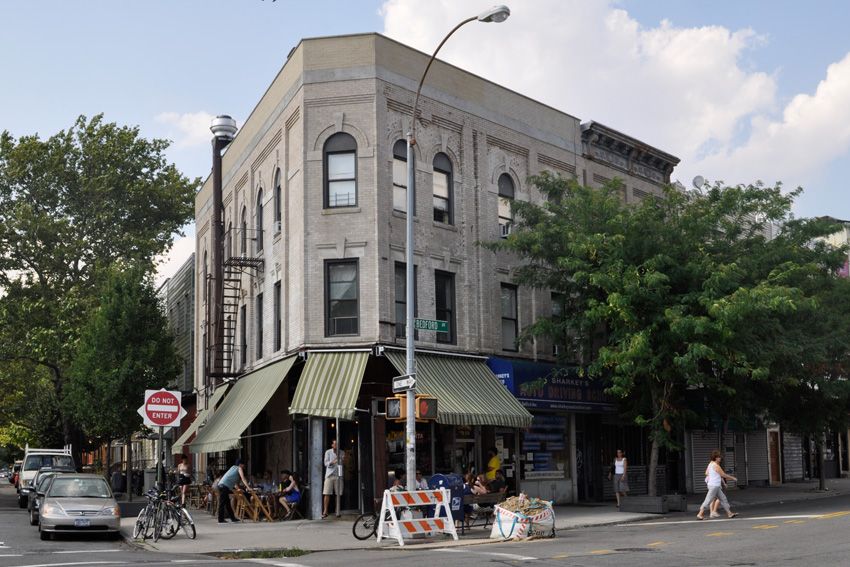 5 Leaves
, the Williamsburg establishment that was initially set up by the late Heath Ledger. It has a very Australian vibe about it. Looks like it could be in Fitzroy, Surry Hills or Fortitude Valley.
The interior is all muted tones and vintage furniture. Glasses are old jam jars, reminds me of my Nana's house.
I was meeting up with Dylan and Rochelle, who you may remember from a post a while back where I was excited they were finally home after 2 years in the UK. Well as soon as they were home they left again for New York for a few months. This was actually their last night in New York before going home.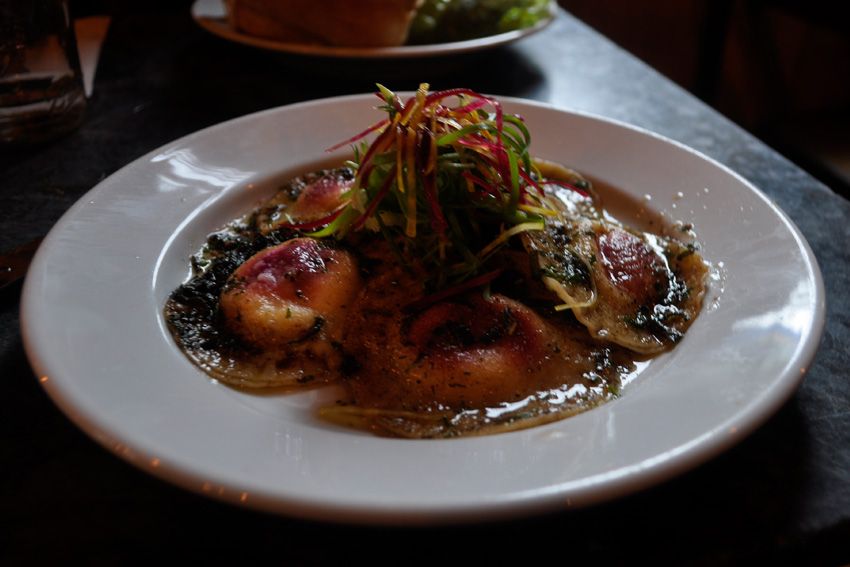 One of the best meals I had the whole time I was away, home made beetroot ravioli with burnt butter sauce. To die for.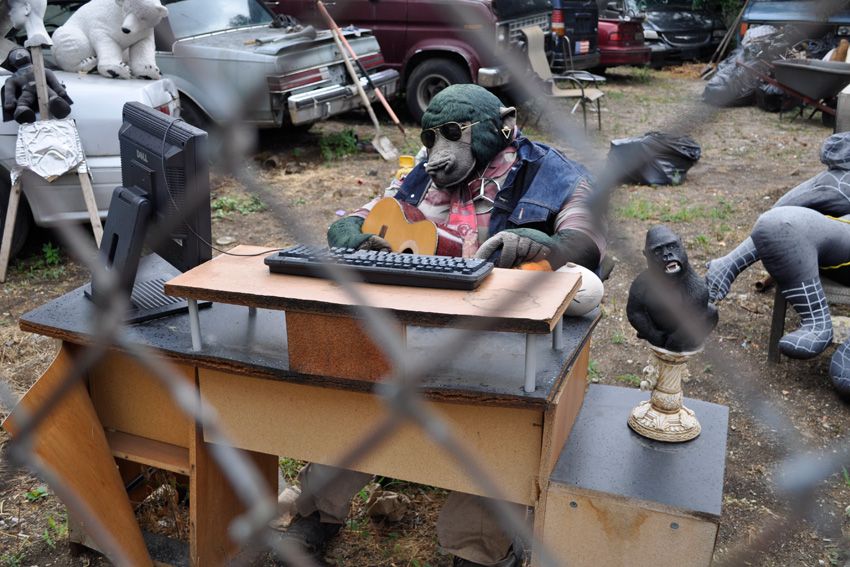 An empty lot on Bedford Ave, a great place for this random Gorilla sitting at a desk playing guitar installation.
You can tell this is a hipster area by the number of bicycles left at the station.
I met up with my friend Ebony (one of the women behind
Make Believe
, they make those giant flower necklaces, we know each other because we all lived in Tokyo at the same time) she has moved to NYC with her boyfriend, who is a musician.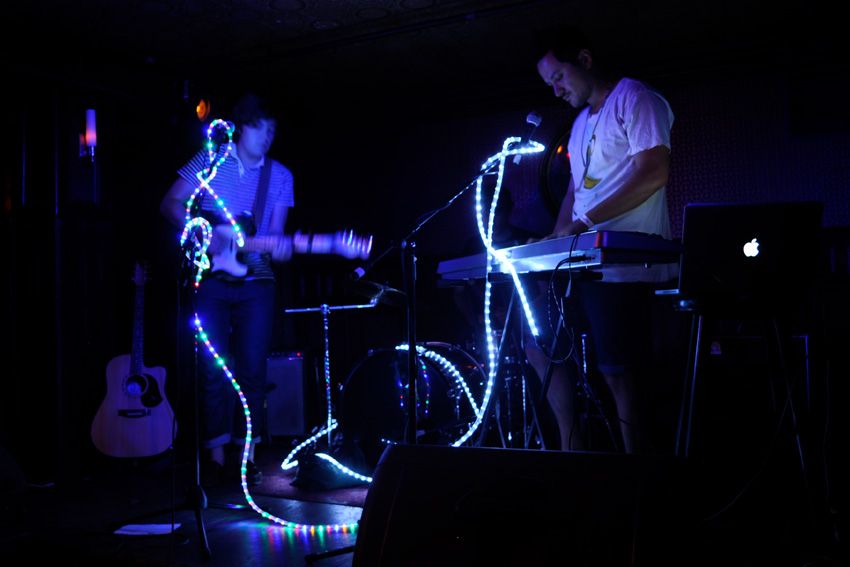 Here Ole is playing in his band...the name of which I forget. They were really good though.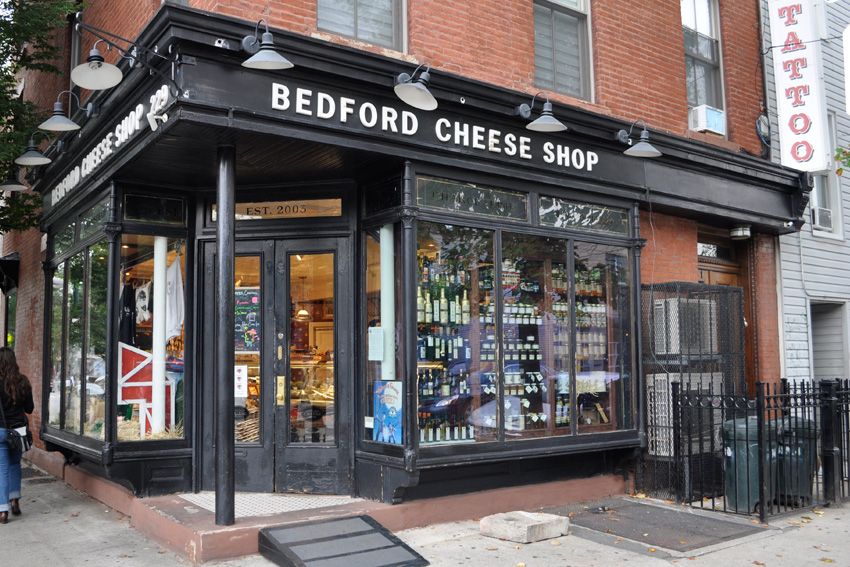 Love love love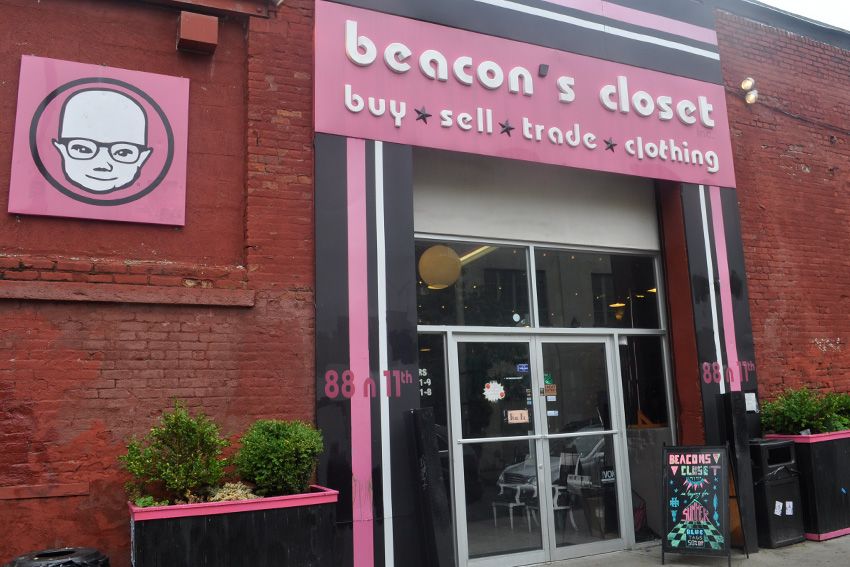 Beacons Closet is where I found some vintage Miu Miu's for $18. I didn't buy them though as they weren't my size. I do wish I bought this awesome bag I found, I went back a day later and it was gone. It was the perfect replacement to my slowly falling apart fringed bag.
OAK
is a store everyone was telling me to check out. It was pretty fabulous, you should check out the online store. I checked out the Manhattan branch too. At the Williamsburg store you need to buzz and then they open the door for you, problem is I couldn't find the damn buzzer, cue much embarrassment. I was pleased to notice they sell Australian label Evil Twin amoungst the Alexander Wang and OAK's own in house label A.OK.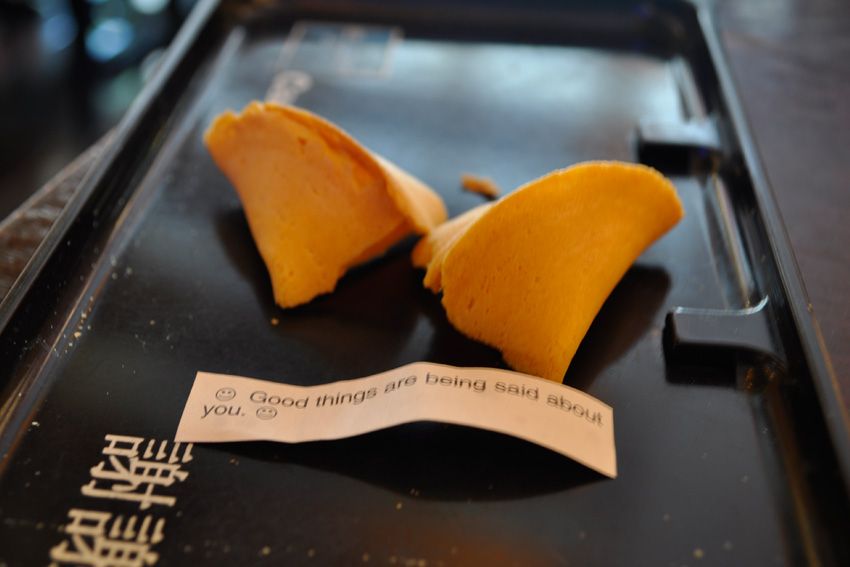 I sure hope so.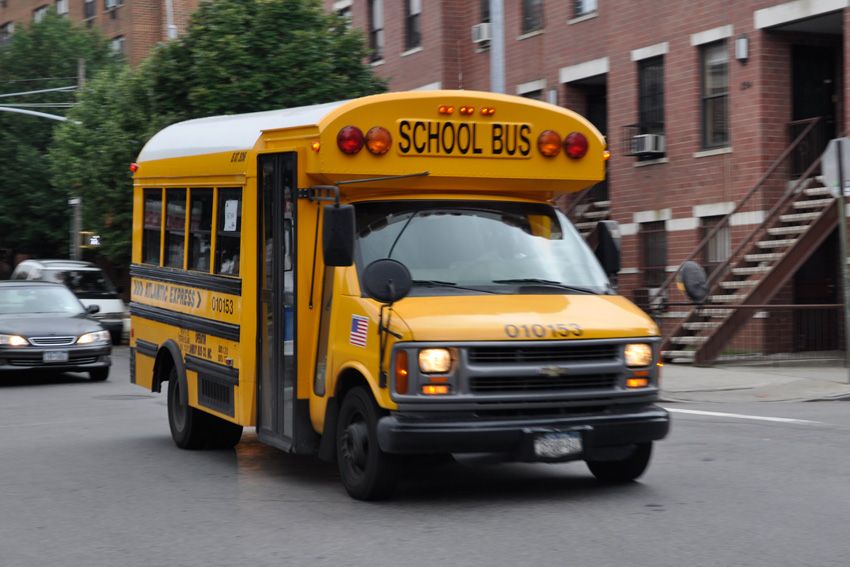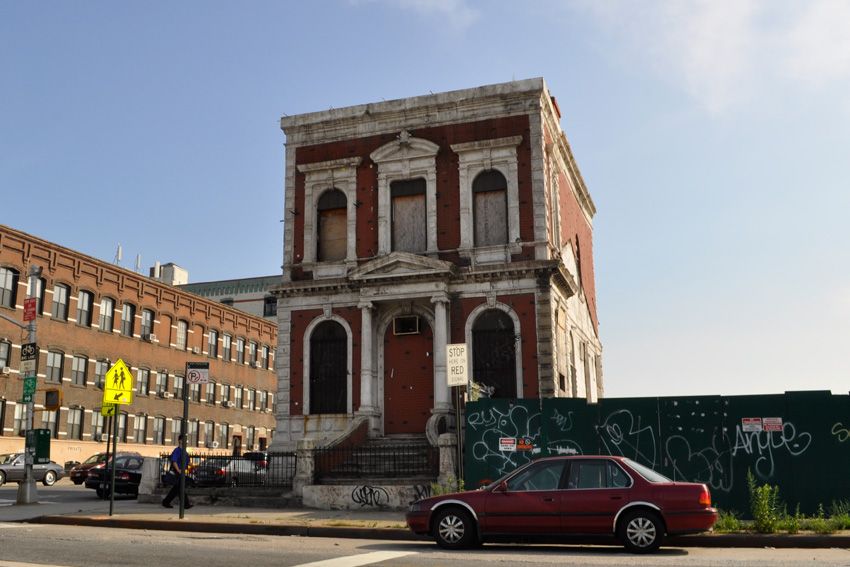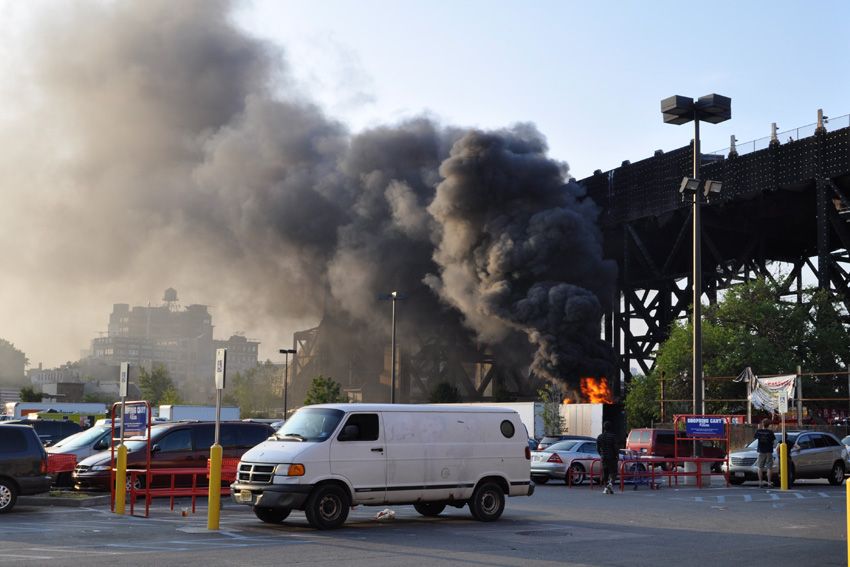 I saw a truck on fire. Directly below the train tracks.
I bumped into Nicolette and her partner on Bedford Ave on their way to the
Roaring 20's: Jazz Age Lawn Party on Governors Island
. Click the link to check out her photos of the event. They both look so chic.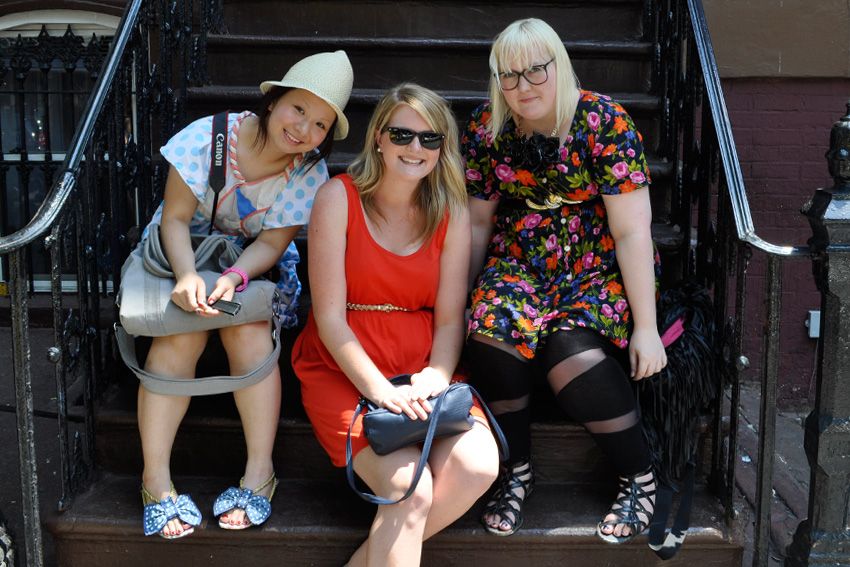 Another blogger I got to meet up with was
Queen Gilda
, who I have wanted to meet for a very long time because we both share an intense love of Japan, as we both have lived there. She studied fashion at both Tokyo's Bunka and NYC's Parsons so she is definitely going places in the fashion industry. Check out her kawaii thesis collection
Revasseue: for lovers and daydreamers
. Oh and the girl we are sitting on the stoop with is a lovely reader from Australia, who is living in NYC at the moment, and she had hoped to bump into me around town, and well she did. So nice when people say hi to me, and so surprising when it happens overseas.
We went to the Williamsburg
Artists and Fleas market
, which is very much like the Rose Street Market back home, with a bit more vintage thrown in. But geeeeeez it was the hottest day in the history of hot days, we also went shopping in Soho, and by the end we needed to buy lots of lemonade and cheap $2.50 Old Navy thongs (flip flops) because of the blisters (well my shoes actually fell apart after surviving intact a whole summer in Aus and trip to Tokyo, New York got them in the end).
I was drawn to this bright table, and the cute dog.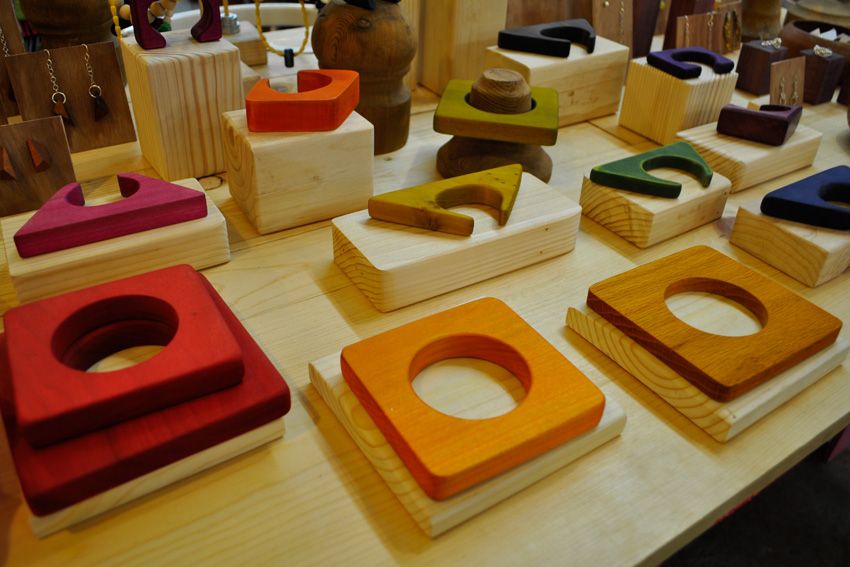 I bought a geometric red ring from this stall holder, similar designs are available from her Etsy store
Helveta Vyotlag
.