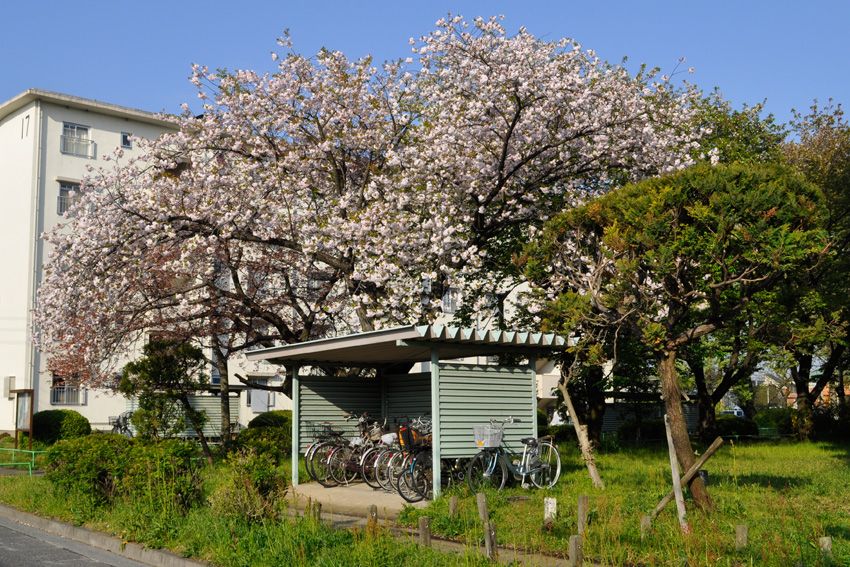 I missed cherry blossom season, but there are still other beautiful trees around. This is near where I am staying (soooo much green for Tokyo!)
Garter is my friend Koshiro's shop in Koenji's Kite Kori Building. He was working on opening it last time I was in Tokyo so it was great to see it finished. Remodel fashion is huge in Tokyo, using thrift store finds and coming up with something new and personal. Often the more hand crafted and altered it looks the better, which is a very different aesthetic to what I'm used to back home.
Koshiro, next to 2 hats I wanted to buy but sadly didn't fit my huge gaijin head.
Awesome shoe remodel.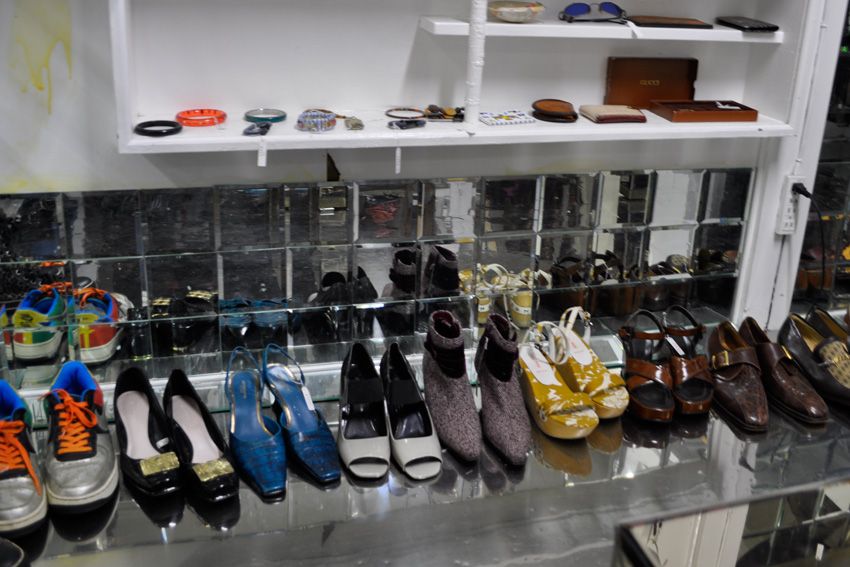 My fave remodel, this denim jacket is given new life with words, that sadly I can not read.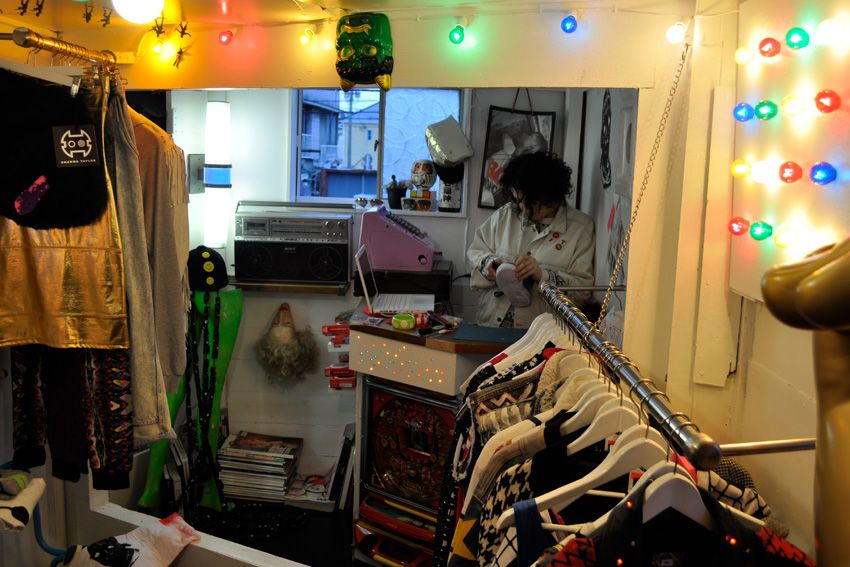 Rachel's shop
ilil
recently relocated to the Kite Kori building. The whole building is a series of old sheds connected together, in parts it is 3 stories. The best way to describe it is to say its a "creative slum" in that bits are always changing and being added to and well it kinda looks dangerous. As we went they were adding a cafe to the 1st and a half floor. Rachels shop is on the 2nd floor, up some scary metal non stairs and accross a bridge and inside remnants of a bathroom wall block off half the store. It's really hard to describe so why don't you check it out if your in town?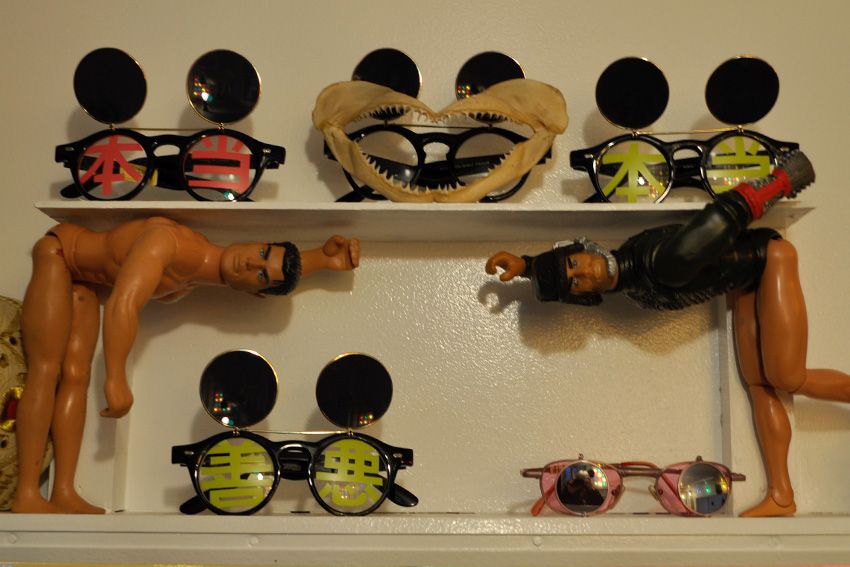 Some of the glasses Rachel has re-made with witty Japanese words that sadly I can't read just like Koshiro's jacket.
There has been a bit of buzz around the Kite Kori building of late as Lady Gaga's team of stylists have been borrowing clothes for her Tokyo TV performances and everyone is in their studios making special one offs for her. In the top photo the belt the back up dancer is wearing is by Koshiro from Garter, and below the chain glasses are by my other friend Hachi's label
Balmung
. The rest of the pieces are by other Kite Kori building designers and young designers in Tokyo I just don't know them personally.
Whenever I am in Koenji I try to eat at the Tacos Cafe as the food is amazingly cheap and oishi (yummy).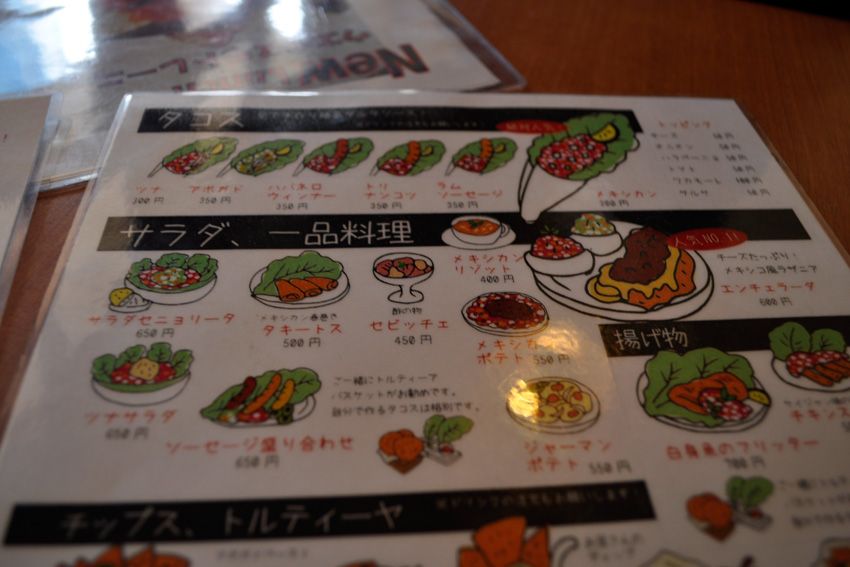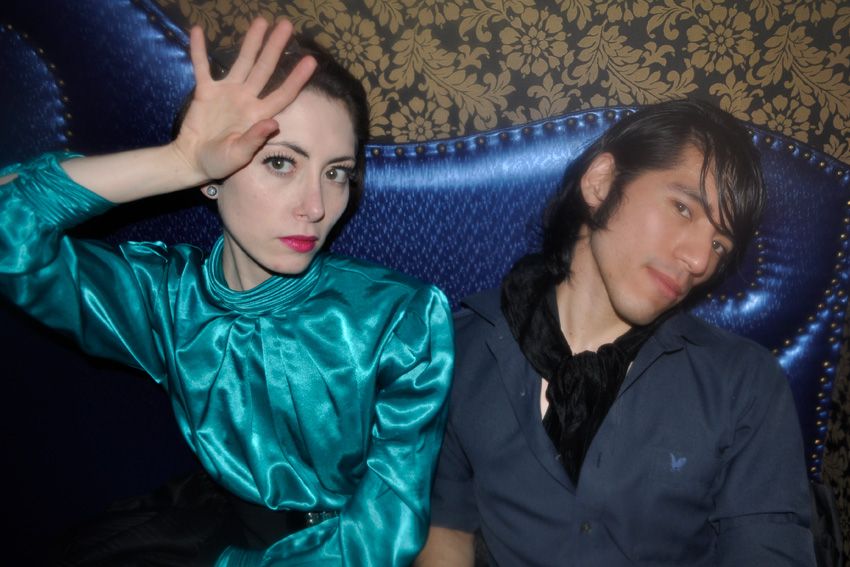 One of the most exciting things about coming back to Tokyo was the chance to meet up with Gallermic again. He was my housemate when I lived here, but he was more than that. He was a great friend with such a kind heart who also happened to be the king of the party scene with his blog
The Fashion Ramone
and TFR parties. Those days are long behind him now as he went back to his native Peru for a year (hence I didn't see him last year) and has returned recently with ambition of becoming a serious artist, which he has achieved as he is now represented by a big gallery here, the
magical art room
. It was so exciting to see him and reminisce about the old days, who has come and gone from Tokyo and the scene and well just catch up on whats been happening in the 3 years since we last saw each other.
No idea why this obasan (old woman) in traditional kimono was in the line for the toilet at Arty Farty (super tacky gay club in Shinjuku ni-chome)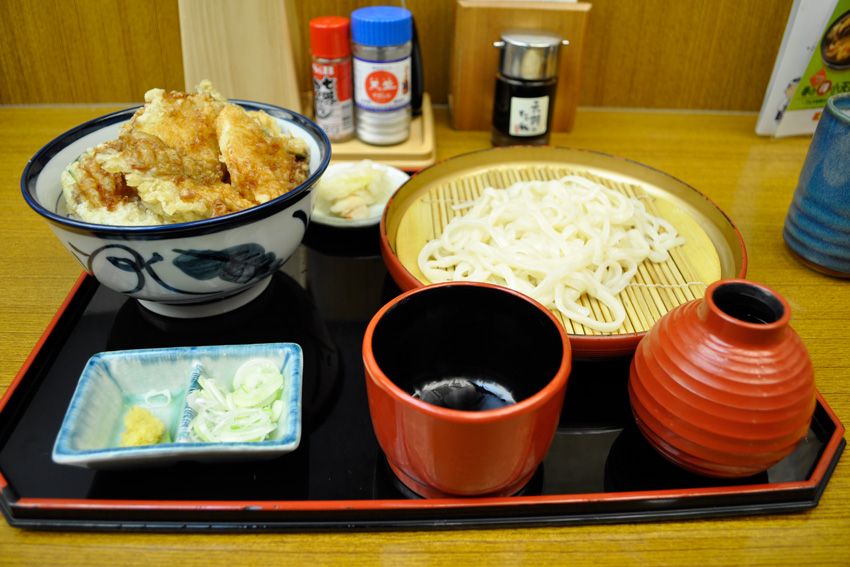 Another favourite meal in Tokyo, yasai tendon and cold udon, mmmm oishi.
Had a quick squiz at the Opening Ceremony store in Shibuya. I had no idea it was going to be EIGHT floors of utter fashion love. The prices are better on the online store for us Aussies but it was great to see everything up close and to try things on so I can work out what size to order things in when I win the lottery.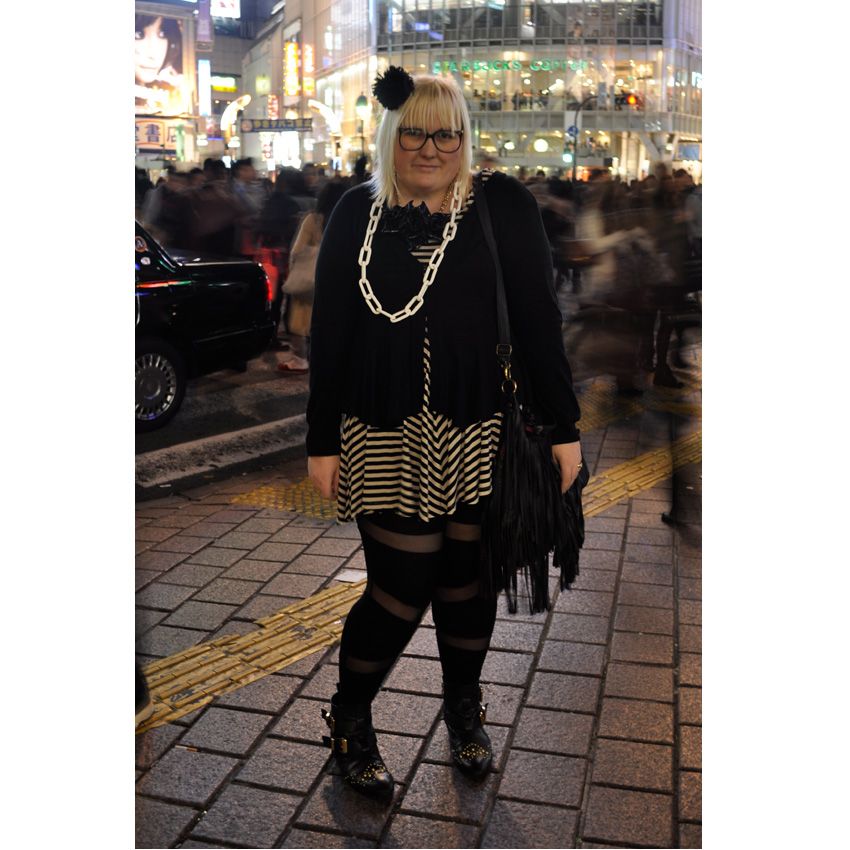 The title of this post comes from a girl sitting opposite us at dinner who said me and Hill were "brave cool" whatever that means. So this is what I wore when I was supposedly brave cool in Shibya crossing. Not too different from the last outfit just with a few changes.
Black & white stripe dress: Sportsgirl $79.95
Cardigan: City Chic gift
Leggings: ASOS $40
Boots: Forever New $129.95
Belt: Camberwell Market $10
Flower Necklace: Make Believe gift
Bag: Gift from my mum
White chain necklace and pom pom: I made