I bumped into my fave bunch of hyper alt hippies, otherwise known as the Melbourne Spank Girls (at least to me). Holly on the far right in the black t-shirt, has started to take photos for
Melbourne Street Fashion
and they are great. FYI the site is going through some maintenance at present though, but should be back better then ever soon.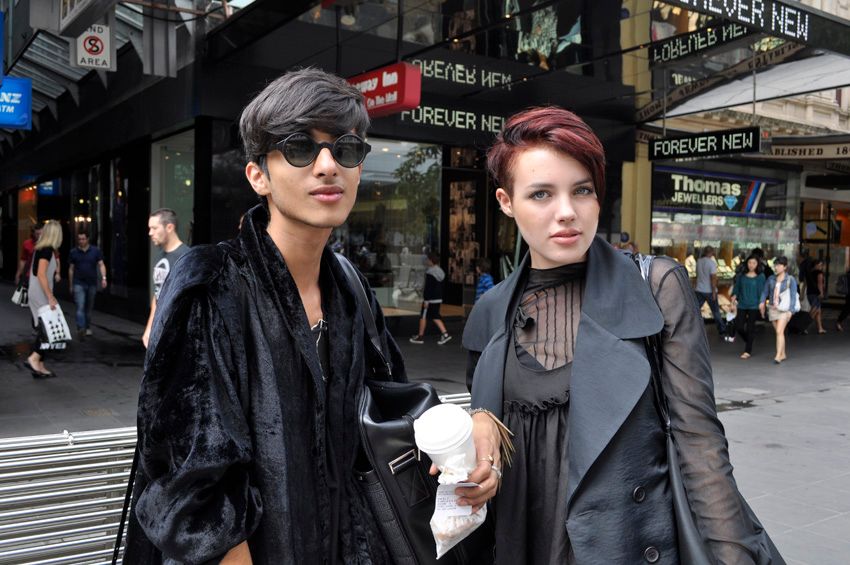 I also bumped into the fabulous Simon and his very beautiful friend Kirsten. Looking chic in the neo goth head to toe black look, getting creative with broken hubcap neck pieces and $2 shop sunnies.
I also bumped into the ever Kawaii
Super Kawaii Mama
and met
Violet LeBeaux
celebrating Chinese New Year in China Town looking very much like Harajuku gals.
I love how Melbourne has all these subcultures of style. As much as I miss Japan and its amazing street fashion I must say Melbourne has it just as good. Sure there is a lot of influence from Japan, but I think there is still an original perspective to be found. SKM takes on a retro 1950's rockabilly style mixed in with notes from the Hime Gyaru Harajuku look. Every person featured in this post uses fashion as a form of expression in one form or another and I love it. I think its so much more interesting to dress this way then to dress in the paint by numbers style that so many other blogs feature. This year for me I want to start dressing and styling in a more "avant-garde" way, if that makes sense. In a way free from the influence of blogs and magazines but purely from the within, taking some influence from the street but in a way that is purely me and how I feel? Dressing/styling as an art and not purely about function.