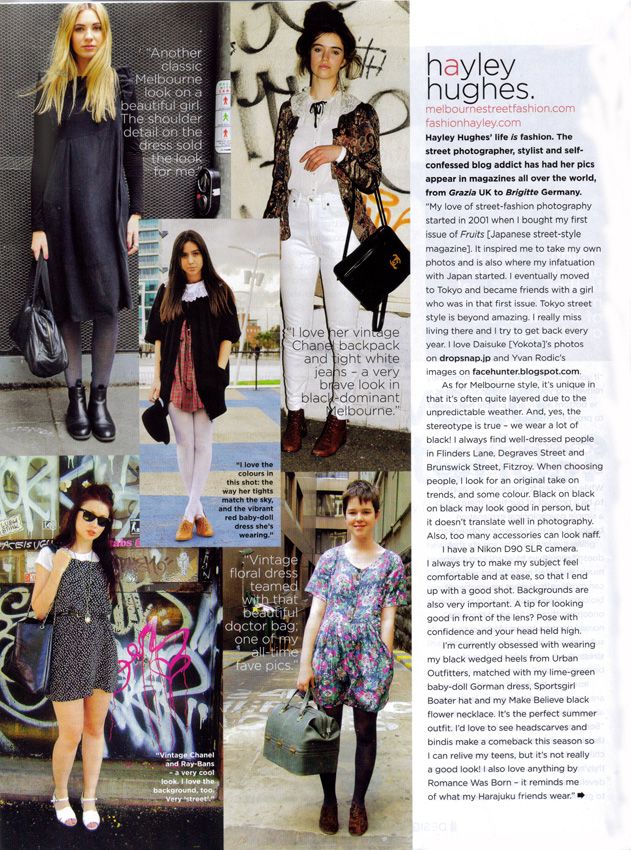 Interview with yours truly in this months Cleo magazine. I've been so excited about this for a while. I love getting recognised for my work and not what I wear, as its what I'm most proud of. It is funny that my street fashion photography, that I started doing nearly 10 years ago now, is what gives me the most recognition rather than my styling? I guess it takes a while for anything to take off, and I've only really been styling for a little over a year now and it is slowly taking off which is exciting. I seriously have to pinch myself occasionally because I'm living my dream.
They also interviewed Emma from
Dropstitch
, Fernando from
Fernandofrisoni
and Paul-Simon from
Kahlanswardrobe
and I noticed something, all of us are stylists and/or designers as well. I guess it shows we have the eye for style and design, and for me it was never about the photgraphy, even though I studied photography at University, it has always been about the style. Sure my photography has improved but I'm not really interested in that side of things. I really like how Fernando said in his interview that it was almost offensive to be compared to Scott Schuman of The Satorialist as I completly agree, and I don't even think he is a talented photographer (shhhh, omg did she say it, omg yes she said it, ha). Fernando says
"Some call me the Scott Schuman of Australia, but I don't take that as a compliment. I started way before Schuman and I like to take pictures of real street wear. I like the challenge of finding an image with a raw or creative element to it. It's quite easy to be in Paris, outside a Galliano show, and take a picture of a fashion editor, but is it real street style? My inspiration is the real people who take a bus to work"
I agree 100% with this statement. It is just so b.o.r.i.n.g "oh wow look at Carrine Rotfield in a loaned outfit from the fashion cupboard at Vogue Paris wearing the shoes that just walked down the runway" its not REAL and I find it all so dull and have never really understood the appeal.
There are so many street photogrphers around the world now, but I feel that people keep forgetting the original (and the best), Shoichi Aoki the creator of Fruits magazine. We all owe so much to him and I feel he doesn't get enough praise. I'm sure that without Shoichi there would be no Scott, Yvan or heck even me, out there snapping away.
Thanks Cleo for being one of the 1st Australian media outlets to finally recognise home grown street fashion photographers and for basically making my day/week/year xxx