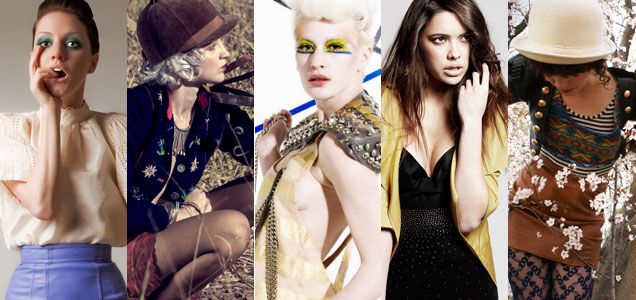 When Kate from
Sportsgirl
rang me on Monday night to tell me I was in the final 5 of the Sportsgirl Super Stylist competition at first I didn't believe her. There were some pretty amazing entries on the site and I thought I had no chance compared to them. But no, I actually made it through to the last round, which is a "Style Off" which seems to be a mix of a dance off and that gameshow Supermarket Dash. I have 10 minutes to rush around the Chadstone store finding clothes for my model's 2 looks next Wednesday night and infront of an audience and a panel of judges I have to style her right there on the catwalk. Talk about pressure. I'm so nervous, but excited. I know I have a good eye and can do this, but in the end its all up to the judges and what they like. The actual prize is an amazing opportunity for me. Basically you get to style the next Sportsgirl magazine on the Gold Coast! Hello luxury! In the past they have used amazing photographers and stylists who I've dreamt of working with, and this can only further my career. Styling is what I want to do and I hope the judges can see that I'm serious about this and that I actually have some talent. I've been picking up the Sportsgirl magazines for years, pouring through the pages. I remember back in 2001 when I was 16 they had this theme of the model being an artist, painting these cute little paintings. I cut that picture out and had it on my wall as inspiration for years as the styling was just amazing. Now I am so close to styling it myself, imagine if another 16 year old girl cuts out my image and sticks it on her wall and goes on to become a stylist? How nice would that be?
Edit: These are the judges, I found them on the
Sportsgirl website


Here is what Sportsgirl has to say about them:
Dee from
www.deeelightful.com
We know and love her from her amazing fashion blog deeelightful - with her spot-on sense for hot looks, individual visual style and love of all things fashion, Dee adds the perfect girl-on-the-street perspective to the comp.
Kym Ellery
Best known for her label ELLERY, which has gained international recognition for fashion-forward yet wearable designs, fashion rock star Kym Ellery also helped develop Russh magazine into one of the most influential fashion titles in Oz, and has loads of experience as a stylist.
Anouk Colantoni
As Fashion Market Editor for weekly fash-fix glossy Grazia magazine, Anouk spends her days searching the Australian market for the latest and greatest labels, and stays up-to-the-minute with the latest looks and top trends -and knows how to spot styling talent.
Prue Thomas
Having spent the last 13 years in the UK, heading up the marketing and creative teams for Selfridges and most recently for Topshop in London, working with Kate Moss and co, Prue returned home to Oz to lead the lucky Marketing & VM teams for Sportsgirl.
Omg omg stressing out, they are all such talented women. I'm really going to need to work hard it seems, find originality in the clothes, something stylish on trend but different with a hint of cuteness? That's how I'm feeling anyway.