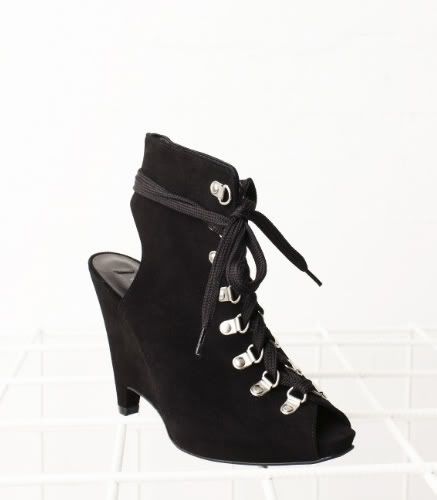 these
Won Hundred
shoes. They are so beautiful and heart stopping and according to their website they are Japanese inspired which just makes me love them more, but at Dkk.649.50 I doubt they will be mine any time soon. Why are the most beautiful shoes always the most expensive?
I'm going to try and list 100 reasons to love these shoes now, wish me luck:
1: The Japanese inspired wedge heel, anything Japanesey I love.
2: The ice skate like shoe laces.
3: Beautiful black suede.
4: The heel cut out at the back.
5: The fact they are from Denmark, and I am obsessed with that place due to Princess Mary (when she was in Melbourne last I went to Federation Square to catch a glimpse of our Aussie Princess, I just love her fairy tale love story)
7: The open toe, perfect for Spring with a hint of black nail polish.
8: Ok I give up, as much as I love these shoes I can't think of 100 reasons why except I just love them because I do. Shoes make me lose the ability to put sentences together, all I can say is "I want them now, give them to me".
Can you think of any other reasons to love them?
NEWS FLASH: DKK649.50 is only AUS$150.50 so they are semi attainable, except they only deliver within Denmark and I can't seem to find an Australian stockist.