It seems 2009 was the year for RAFW jewellery collaborations. First off I loved
Make Believe's
collab with Antipodium
, and now this exciting collab between
Jasmine Noir
and Marine Skillings ended up in my inbox and I nearly died from excitement. Yes I know RAFW was like 2 months ago but I actually met Jasmine whilst door bitching at Gay Bash 2 weeks ago (she was down from Sydney to dj), and absolutely loved her costume. Who wouldn't love a necklace made from handcuffs?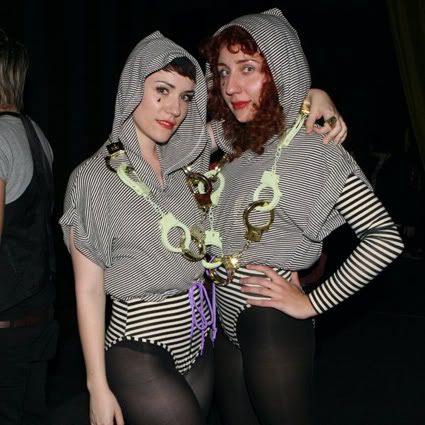 Jasmine is on the left her dj partner Mariam is on the right. From her costume I knew she was one talented lass, just didn't know the extent of it until the email arrived.
Look at that leather lace neck collar. Beautiful. I really love laser cut leather, it adds another dimension, especially when worn with a clashing colour underneath. Also powder coated chain is my friend as I'm allergic to metals.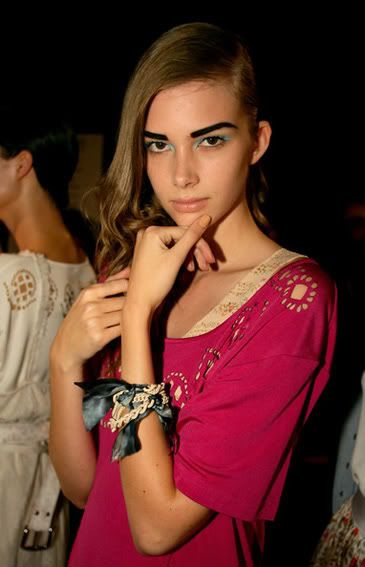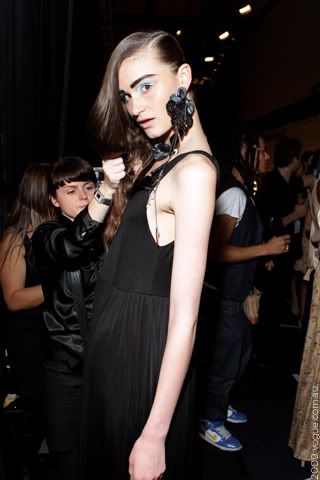 Amazing statement earring.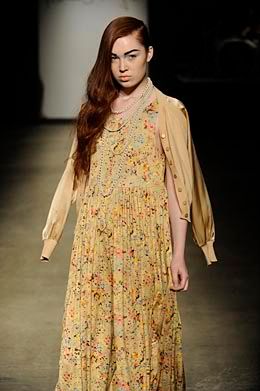 It's her first foray into the fashion world since finishing her degree. She will be following this up with the launch of her own, solo jewellery collection next year which I can't wait to see.
Googling Jasmine Noir comes up with an awesome article about her graduate collection at the
Pages Blog
which also includes some images of that collection.
Jasmine Noir
is a name to watch out for, that's for sure. Can't wait to see the solo collection.
This all reinforces my opinion that Sydney is the place to be to really break into the fashion industry. I'm getting frustrated by the lack of possibilities here in Melbourne and am seriously considering a move to Sydney next year. Luckily I can transfer to the Sydney campus of Whitehouse. I guess though it will probably be a good idea to visit before I make the decision. Haven't been there in 8 years, and when I did go I was 16, with my mum and we spent most of our time in the Blue Mountains.