Look what I found for $2.99 at Sydney Road Savers yesterday. Yes it is a Hawaiian skirt. Yes I will wear it like that. I couldn't resist it. At the moment I am in a bit of a black and white phase and just can't imagine wearing colour ever again when black and white go so well together. I'm sure this will pass eventually, but for now I'm trying to be bold in black and white. So crazy Hawaiian skirts worn as poncho's are what I'm after right now.
White poncho: Savers $2.99
Black and white leggings: Supre $30
Black flats: Rubi shoes $15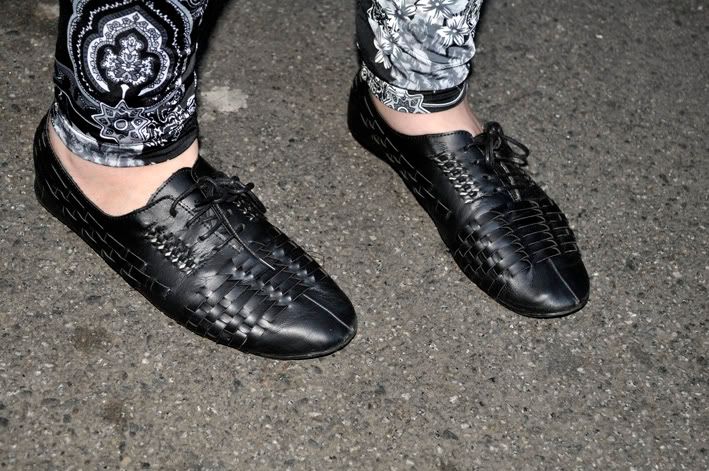 Here is a close up of the awesome woven detailing in my cheap as chips Rubi shoes.
Under the poncho I am wearing another amazing Savers find. The black mesh dress was only $4.99 and it was exactly what I went to Savers looking for! I've been searching mesh dresses on ebay for weeks but haven't found anything I liked enough to buy, so finding this dress at Savers for only $4.99 was a dream come true. I don't understand the people who say they never find anything at Savers, I never leave empty handed.
Woven mesh dress: Savers $4.99
Tie dye dress: $3 Dimmeys (I tie dyed it myself)
Belt: Zara Tokyo $80
Leggings: Supre $30
Boots: Henry's from Savers
Black stud bracelet: Galaxxxy Tokyo $10
Necklace: Arthur Daileys $1
The mesh detailing. It has sequins through it and is torn in places. I am so happy I found it.