I was recently asked to door bitch at the Melbourne launch of awesome Sydney party
Gay Bash
. The Sydney party is famous for its crazy dress ups, similar to what one might have seen at Boombox, and uber stylist
Ms Fitz
at the door not letting anyone in ugly sneakers slip by and if your not on the guest list your not in. Well I of course had to dress up "fashion hayley" style (is that a style?) to impress these Sydney fags who are used to partying with the likes of Pip Edwards (another uber stylist). This is what I wore.
Super gold glitter, that ended up ALL OVER my face. I am so not delicate. I am also blind (short sighted, which means I can't see long distances...why it is called short sighted always confuses me, but that's a whole other story) Did you know that mirrors actually double the distance you are viewing? So it means looking in a mirror to put on my make up is very difficult because I can't really see my face. Hence it is always uneven and splotchy. Yay for blindness. You may also notice my uneven fringe. Again Yay for mirror blindness.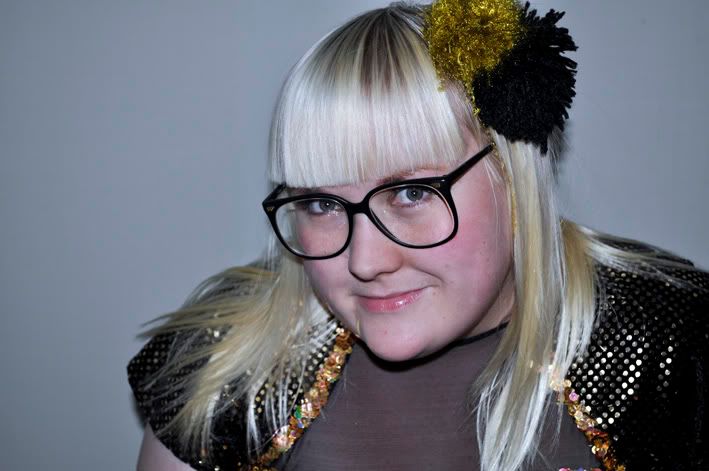 I also made a special edition GOLD pom pom.
And wore a terribly unflattering but seriously awesome dress. This dress was actually bought in Tokyo at my friends shop,
Spank!
I wore it to that party over there that I got very drunk at and made out with my bff. Ahhhh memories that I don't actually remember. Anyway the theme of the night was Suburban. So I was a figure skater. Most people don't think suburban = figure skater, but I do. In high school I was friends with this girl from the burbs (I have always been an inner city girl) who was a figure skater. All her suburban friends were all figure skaters. So to me the burbs will always mean stupid outfits covered in sequins.
The dress is actually a leotard so I wasn't able to go to the toilet all night due to having to get naked to pee. When I wore it in Tokyo I didn't actually realise it was a leotard so I had both my legs through one of the leg holes and I wondered why it was so tight there. So stoopid sometimes! I finished at 2am, partied for an hour (didn't have my slr on me though, so no photos, but there was a Gay Bash photographer there so when those photos are up I'll post a few on here, some of the costumes were AMAZING!) then went home to get some shut eye so I could be up at 7am for a shoot I styled for the next issue of
Pocketto magazine
.
Sneak Peak of the shoot.
The photographer was
Sufuraa
who took some amazing photos and really understood my vision for the shoot. This shoot went so well I can't wait to show you the final product! ALSO you may recognise the model, its my friend
Anna
who has to be the best model in the world because not only is she amazingly beautiful but she is also a fantastic artist which means she understands the creative process and is inventive in her poses. Her creative vibe is captured by the camera. So yes, I am very excited to show you the final shots this weekend.