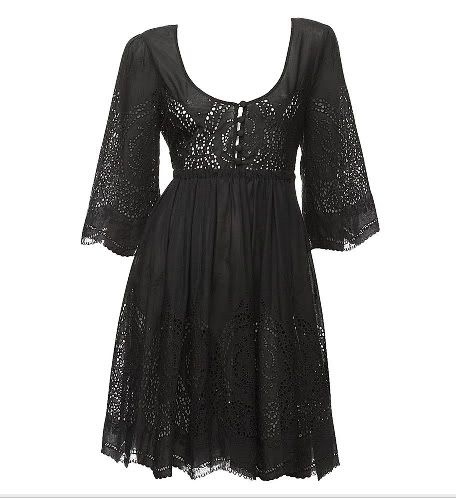 Last night after Uni I went shopping with my sister and a class mate. I hadn't been shopping since Japan (and even then I didn't buy much) so it was really fun, plus its really fun shopping with a fellow styling student, we speak the same language!!! The reason why I could actually shop was because of the $900 Rudd money i.e Government stimulus package. So in effect the government bought me a new dress. Yay. The dress was $99.95 down from $169.95 at Sportsgirl, and its the first item of clothing I have bought there since 2003 (normally I don't like the cut of Sportsgirl clothes) but I think this dress is to die for. I love the bell sleeves and the brocade lace. Its like the exact dress I have been dreaming of.
The dress in action:
I wore the dress tonight to the
Expression Fashion Gala
showcasing student fashion.
Outfit details:
Dress: NEW Sportsgirl black dress $99.95 down from $169.95 (expensive for me normally but it was FREE money and we do have to stimulate the economy and all)
Leggings: NEW black and white printed leggings from Supre $30 (also bought in same shopping trip)
Shoes: NEW black flat shoes 2 for $30 at Rubi Shoes (my Uni friend bought 1 pair and I bought 1 pair so actually only $15, bargain, especially as they look like those $100 Alphaville shoes!)
Pom Poms: I made for the Pocketto shoot, free.
So a whole chain store outfit, but styled in a non chain store way. The only issue I have with the dress is that you can see my bra. I like that for night time, but for the day? like could I wear it to Uni?
This weekend Hachiko is finally home. I haven't mentioned this on my blog yet but while I was away in Japan Hachi missed me and started to bark A LOT so some mean neighbour complained to our real estate who then phoned Henry and said if we don't get rid of him we will be evicted as its a breach of our lease to have a dog. Ahhhhh that was stressful for me to find out while I was away. So poor Hachiko has been living at my Mum's house, having a nice holiday playing in the huge backyard and fighting with my Mum's two cats. He is only back for the weekend because while we are home we can stop him barking, but during the week its impossible for someone to always be home. We are still trying to work out what to do. We want Hachiko back home, but we don't want to be evicted. We started looking into pet friendly rentals in the inner city, but they don't exist. So we are thinking of getting this collar that sprays the dog every time they bark. It isn't cruel like those electric shock collars, we actually already have a spray bottle that we spray him with when he barks while we are home so its no different to that, and that ALWAYS stops him from barking. The only problem with those collars is they cost about $150 and if it doesn't work that's a huge sum down the drain. Ah who knows.
Hachiko, being a pervert exposing my breast.