Yesterday former Miss Universe winner and Australian mega celeb Jennifer Hawkins was at my Uni, The Whitehouse Institute of Design. Why? Well the Myer show was being held at our amazing 5th floor runway, that's why. Us lucky students got to go and watch the rehearsal during school hours. Photo from
The Age
of the actual rehearsal that we watched (I didn't have my camera on me, damn). I guess, even though I'm not a fan of Miss Hawkins, it was kinda cool to see her in person. Little did I know that at the LMFF Runway 1 show I would see Danni Minoque, Alex Perry, and Miss J Alexander from ANTM. Yay for B grade celebs!
Talking about celebs, I also bumped into and
street snapped
some famous, and stylish, Aussie bloggers.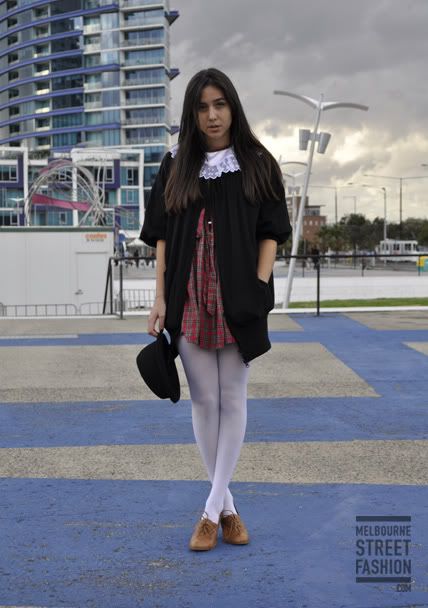 Bianca from
Quietmilk
. She is such a stunner, and she also takes amazing photos on her blog.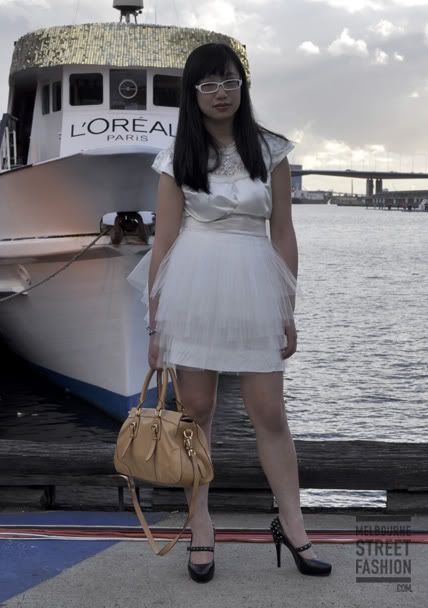 Angela from
Angela see Anglea
, who is wearing REAL Christian Louboutins!!!
I had a fish and chip dinner with them and their amazingly stylish but alas blogless friend after the show. Those girls, at only 15, are so clued in on fashion its shocking (in a good way). At 15 I thought Louis Vuitton was some kind of French Airport (this was the time before the internet people), lol.
I also met the lovely couple who I spoke about
previously
. They went into my friends shop, Spank, in Tokyo maybe a month before I got there and told Yuki who was working that day that the reason they were there was because of "Hayley's famous blog". I recognised them immediatly from the photo Tabuchi showed me (they were wearing all Romance was Born in the Tokyo photo too, obviously big fans). So nice to meet them. I have already emailed the photo over to the Spank girls in Japan. Sometimes the world is such a small place.
If you are a facebook friend of mine you will know that I spent 5 hours last night editing photos for
Melbourne Street Fashion.com
. Please go and check them out and read the new article by Kat George too while your there.