Ok so the Yen is a wee bit better at 58Yen for $1AUD, bit thats still pretty shit. Oh well I don't mind, just means can't shop much but I can still party and hang out with friends. I have heard rumours of some celebs attending some of the parties I'm going to (Agyness Deyn is one of them!!!) so excited if that is true!
I have nothing much more to say, my head is just filled with last minute packing stresses and a to do list longer than my Year 12 English exam.
So here is my last Aussie post for a month, a tag from super stylish
Style Down Under
called the
Fashionista Tag
Describe your personal style:
My style is bold, almost cartoon-ish. Bold coloured or patterned dresses and big bold statement necklaces are the key to my style.
What's your signature look?
Currently it is leggings + dress + belt + necklace + pointy shoes. Not very interesting really, but for now it makes me happy and its comfortable.
What inspires you?
Tokyo street fashion always has and always will.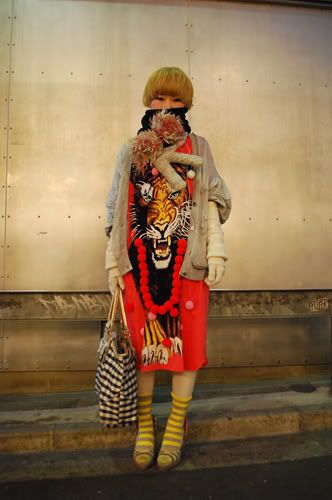 Who is your fashion muse?
Ummmm its always changing. Right now I would say I love the style of bloggers more than that of celebrities or models. In particular I love the style of Zana from
Garbage dress
, Susie from
Style Bubble
and Nadia from
The Foxy Man
, all of whom have vastly different looks but they all work them confidently. Not to mention they have no personal stylists, they are their own stylists, unlike a lot of celebs and models. Real style is way more interesting to me.
Favourite purchase of all time?
I love my Nenet Whisky dress even though I hardly wear it. I plan on wearing it a lot in Tokyo though.
Biggest splurge?
My Nenet Whisky dress was about $190, which is the most I've ever spent on a dress.
What's your beauty routine?
Well since "my confessional" post about not really having a beauty routine, I now actually have one. I remove my make-up with Priceline make-up remover pads every night. If I get a pimple I put Ten O Six acne cream on it immediately. I wash my face with Garnier face wash twice a week. I moisturise with Priceline moisturiser. I only wear eyeshadow (white) and black mascara. I sometimes wear black eyeliner at night. I don't wear concealer, foundation or anything like that as if I do I break out in pimples right away.
What jewellery do you never take off?
My wedding ring.
What are you wishing for?
The exchange rate for the Yen to improve. So lucky we have free accommodation.
What are your obsessions?
The Yen is my main one. Fashion wise fringing and monkey fur (I've been thinking about making a black furry vest using black hair pieces from the $2 shop...In Tokyo my friends made vests with Barbie hair attached so I'm sure it can be done)
Ok guys I have no time left to tag anyone, so if you wanna do it go ahead.
I hope those of you in Melbourne survive summer, I'll be back in March just when it is hopefully cooler. Tomorrow I night I will be posting from Tokyo, wooohoo!!!