Yep, I went to Melbourne Fashion week...in September, and I didn't post any of my photos yet...

I have been maybe a little lost lately...I have been more interested in decorating my house than my 1st passion...fashion. I haven't been going out to fashionable parties, getting dressed up, shopping for clothes or anything for ages...Well that's going to change. I'm back, fashion hayley is back! There is this new party in Melbourne called Fashion Keyboard, where Melbourne/Australian fashion designers, boutique owners, and fashion people dj...and because one of my closest friends is the PR guy for the party I can go for FREE anytime I want....well it started 2 months ago and I still haven't been. Its just a bit hard to get excited about going out...when your just going out in Melbourne. If you look at my Japan blog, going out in Tokyo means crazy fashion, amazing music and the best time of your life. In Melbourne it means "cool" fashion (in Melbourne black is the colour of choice...boring!), mostly rock n roll music (Melbourne's indie scene is dominated by bands, and we do produce some good bands, but I love dance music and techno-ish stuff...the stuff they play in Tokyo) and a kinda fun, but boring night. I used to love going out here, before Tokyo...now its just so hard.
Anyway I have to start liking going out here because I just go into UNIVERSITY yay! I'm studying Creative Arts Industries at Victoria University in Footscray. I'm so happy, this course is going to be so much fun because it combines the Arts with a business course, so its going to be useful, rather than when I studied fine art which was just art and I found it to be soooo pointless.
So I am going to be living in Melbourne for the next 3 years, maybe 4 if I decide to do my diploma of education so I can teach if I ever need to get a job. After that, thanks to my husbands Irish father, we can move to any EU country because my husband has an Irish passport and I can get one too...Yay. So Melbourne is home for a while, and then we are moving overseas again for the next big adventure.
While I am in Melbourne I am going to:
Party
Shop
Study
Go to the beach
Ride my bike
Update my blog with exciting things about fashion, decorating and my life! Maybe even some Melbourne street photos thrown in. I promise that this blog will get interesting again!
These are all things I want to do, but haven't because of my little rut....feeling depressed about being home. I think I am finally over it. YAY!
So here are some Melbourne Spring Fashion Week photos
Romance was Born
This label really impressed me. They played yothu yindi music (aboriginal band from the 80's 90's) and the clothes were so fun, almost like barbie doll clothes that kids make.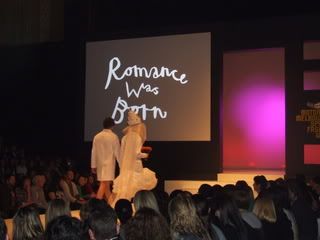 Photobucket" border="0">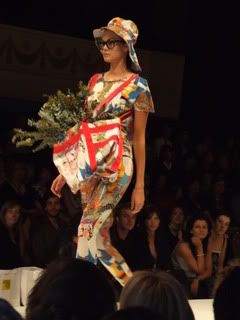 Photobucket" border="0">
I love the shopper
Photobucket" border="0">
kawaii bunny jumpsuit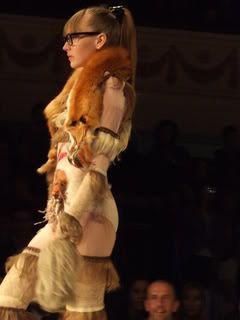 Photobucket" border="0">
Native = cool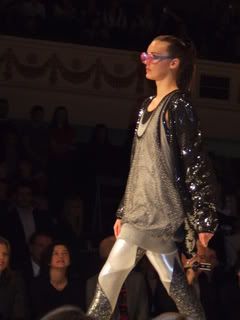 Photobucket" border="0">
My dream leggings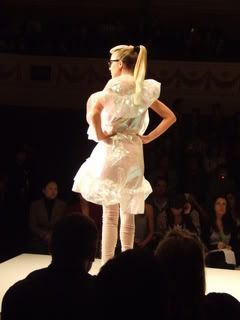 Photobucket" border="0">
This fabric is so amazing, its just like the wedding dress my barbie doll wore.
Material Boy
This label is run by a guy we actually met in Tokyo. He is from Perth and lives in Bali because he loves to surf, and yeah I forget his name...all I remember is we were drunk and I think I teased him about being from Perth...I also questioned his morality because he lives in Bali, the clothes are made in Bali, and they pay virtually no wages and he has a maid and a driver...Its crazy...he is only 26 and the label is very new, but because he lives in Bali, he can live like a king...so I think the $150 price tag for the t-shirt is exploitative and just as bad as buying from Nike.
Henry really likes their stuff, though...
Photobucket" border="0">
Photobucket" border="0">
Stirrup leggings on boys = hot
Photobucket" border="0">
A more subdued look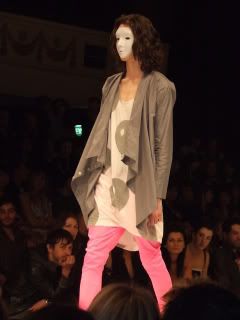 Photobucket" border="0">
Henry would never wear pink leggings.
Ok well in my next post I will show you how the Christmas decorations look and also a few of my recent thrifting finds.
I'm so excited about going to uni....yayayayaya!
byebye