I've been wearing my new Mercibeacoup tie-dye cardigan nearly every day since I bought it, which more than makes up for its somewhat pricey price tag. A friend commented that it reminds her of a
Rainbow Paddle Pop
, a popular Australian icy pole (popsicle for those in the USA, ice lolly in the UK - I love the different names for things in English speaking countries, it sure made teaching English in Japan interesting) I keep pairing it back with even more tie-dye, creating a look that is even more like a Rainbow Paddle Pop don't you think? Mixing prints of the same family, in this case the tie-dye family, is often seen as a big no-no - but I say no to that no-no as breaking the rules is fun, especially when the result is so colourful. I wore this to the Walter Van Beirendonck media preview and opening night, although I jazzed up my accessories and make-up a little for the opening night party but didn't think to photograph the changes. Oh well, the day time version is still pretty rad. Thanks to my pal Laurie Luxe for taking these photos on the day xxx
Tie-dye cardigan
Mercibeacoup
from Pet Shop Girls $265
Tie-dye dress
ASOS
Glasses
Bespecd Minsk frames in Lilac
Pink resin necklace
Symantha Rose
available at
Lenko
White flatfroms
Jeffrey Campbell Mayview from
Zomp
$135
White floral socks
ASOS
Iridescent tote bag
Sportsgirl
$39.95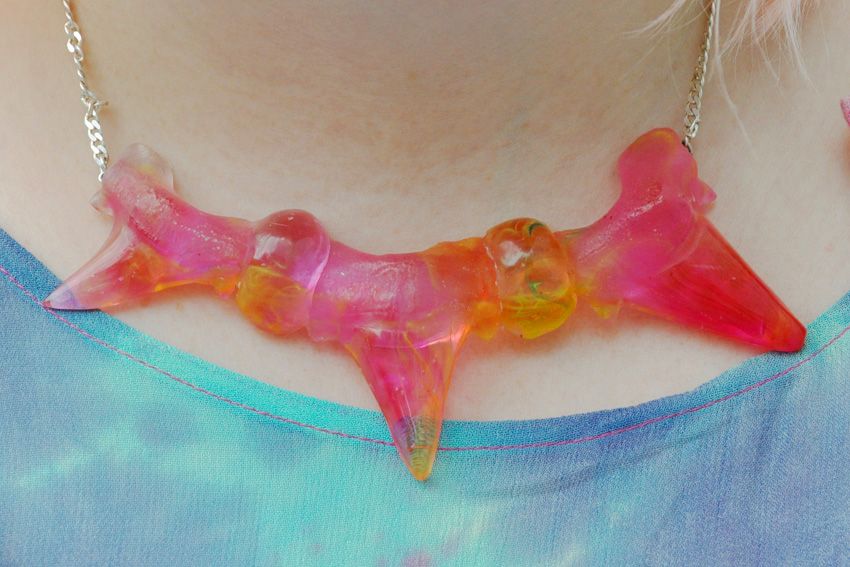 Still loving my Symantha Rose necklace, I mean who wouldn't? It's so pretty.
Pink resin necklace
Symantha Rose
available at
Lenko
This bag has served me well since I bought it a few months ago but it's pretty scuffed and scratched at this point thanks to almost daily wear. I'm thinking of just replacing it with the same bag again which is still available at Sportsgirl cos it's just so cheap and so perfect but I know that it will also end up mega scratched too. What to do?
Iridescent tote bag
Sportsgirl
$39.95
Nail wraps never last very long on me and sadly these Meadham Kirchhoff SS12 nail wraps were a little worse for wear after just one day which you can see here. So cute though.
Nail Wraps
Meadham Kirchhoff SS12 by Nail Rock from ASOS - no longer available but similar
here
,
here
,
here
&
here
Expect to see me wearing these always and forever from now on. So so so so comfy and I love the little bit of height they give me but I mostly love their Sporty Spice vibes. Spice Girls forever xoxo
White flatfroms
Jeffrey Campbell Mayview from
Zomp
$135
White floral socks
ASOS
Get the look!!!