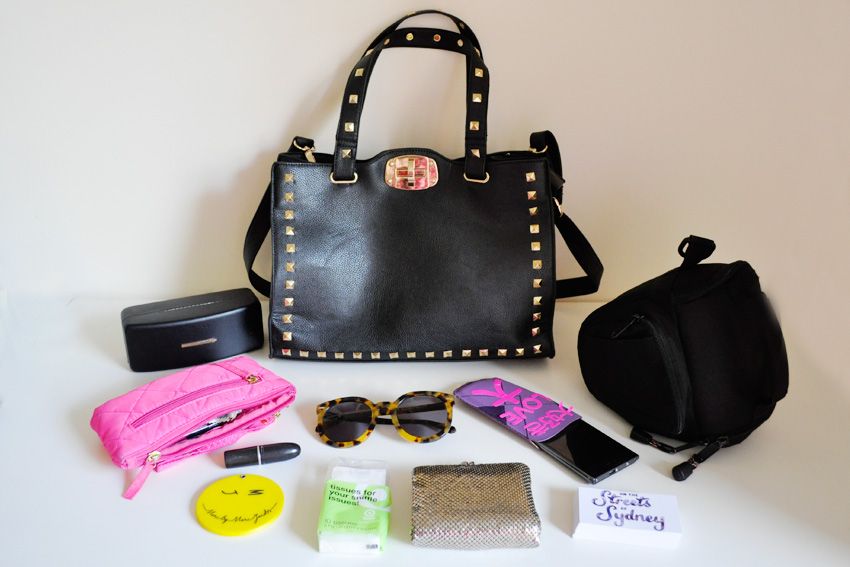 While the team at
On The Streets of Sydney
are excited to be covering Mercedes-Benz Fashion Week Australia once again we do come into it as somewhat weary veterans who know just how unglamorous and exhausting the week can be. We decided to share our essential items that help see us through the long days and nights of reporting on the latest from Australia's top and up-and-coming fashion designers.
My essential items are:
Bag
I finally found a bag that holds all my crap in my under $100 price range that also looks good (love the gold studs). I found it at a cheap and cheerful boutique in Chinatown on sale for $55. Total bargain.
SLR
I always complain about the heaviness of my slr, I am pretty much sick of always having it on me, but when I don't I always regret it as I will inevitably see something amazing and won't be able to capture it.
Business cards
A fash week essential, it is a great networking event after all.
Phone
As you know I finally have a smart phone so expect lots of tweets and instagrams through the week on
@fashionhayley
and
@ontheSOS
. The cover is a cheapie from Chinatown and I just covered it in Japanese stickers, kawaii.
Purse
My vintage gold glomesh purse is one of my signature items, I always have one ever since I was 13, they truly are the best style of purse out there.
Sunnies
I'm no Anna Wintour so don't expect to see me wearing these inside the shows but outside in the harsh Australian sun sure thing. I mean they're totally awesome Karen Walker's so of course I'll be wearing em at fash week, duhhh.
Tissues
It is inevitable that by the end of the week you would have caught the dreaded "Fashion Flu" it happens every season so I come prepared.
Make up bag
The neon pink makes it easy to see in the dark blackness of my bag, I like to keep my glasses cleaner (for my specs that help me see), lipstick and Marc Jacobs smiley face mirror on hand for touch ups on the go.
See what the rest of the team brings with them to fashion week
here
. xoxo
In other news the trailer for the Blogged & Bound Toni & Guy Hair Meet Wardrobe blogger short films has been released. I'm in great company with 20 great Australian bloggers involved in the project including Jamie from
OhJamie
, Annabel from
Love More
, Sarah from
Style Melbourne
and Nicole from
Gary Pepper Vintage
. Watch the video to see everyone who is involved and I swear I really thought I WAS smiling, what's with that grumpy face Hayley?