Sponsored Post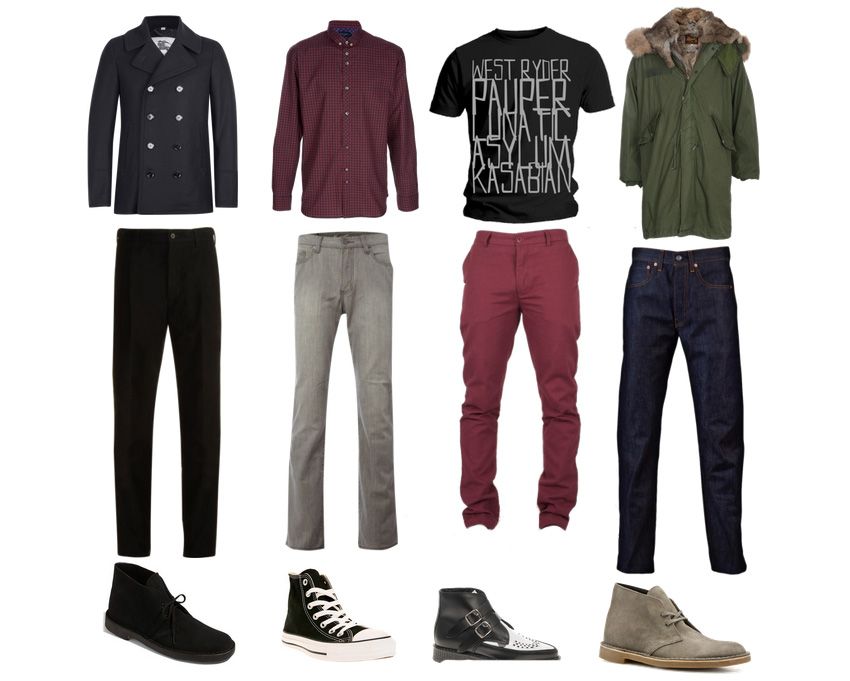 I have had a bit of experience now at styling bands. They are all different with different visions and ideas behind their music and therefore the image that they want to create for themselves. From your regular indie rock band to a more theatrical electro band I've been there. They are also primarily compiled of men/boys and for those of us with men in our lives (in particular boyfriends and husbands) then you will know what I'm talking about when I say men are VERY PICKY when it comes to fashion. They all have their idiosyncrasies, for example one may say adamantly "No I won't wear scarfs" of any kind just as adamantly as one may say I'm allergic to peanuts, or they will only wear super skinny jeans by certain brands, a belt needs to be facing a certain way (that one may be an actual rule though, I just have never encountered it before) and the cuts of shirts are more important than the print or style, if it isn't a button down shirt than heaven help me. So yes I have had experience in styling bands and dealing with their demands. I do love working with bands though, its always a fun day when your hanging out with a bunch of rock stars.
When MasterCard approached me to help get the word out about the latest gig in their
Debit MasterCard Priceless Music Series
with UK rock band
Kasabian
playing in Melbourne at Peninsula Melbourne Docklands on Wednesday, 5 October I immediately thought about how I would style the band. Knowing their style is a very English rocker with peacoats and skinny jeans featuring prominently that was my first step in recreating their looks. Keeping to a muted colour palette helps unify the band's look so that they do in fact look like they belong on stage together. Classic button down shirts are given a rock n roll edge when teamed with a pair of Chuck Taylors. Creepers, the in shoe of the moment, are a good way to update the classic winkle picker style of shoe the band normally wear. My favourite item on the mood board is the army jacket, so 90's and Noel Gallagher.
The band are releasing their new album Velociraptor! on the 16th of September. It will be their 4th studio album, proving their staying power within the fickle music world. The first single Switchblade Smiles has been released digitally with the music vid already gaining traction on YouTube.
The Melbourne gig is at Peninsula Melbourne Docklands on Wednesday, 5 October. To buy tickets go to
www.mastercard.com.a
u
/music
Tickets are $41.25 (limit 4 per person) and are on sale from 9am AEST on the 25
th
August. Tickets must be purchased with a
Debit MasterCard
. Most importantly have fun, and tell me what they wear xoxo
WIN tickets to see the gig
As a special treat I have 1 double pass to give away to a lucky reader who resides in or will be in Melbourne on Wednesday 5
th
October. To enter all you have to do is comment on this post by 1pm AEST on Tuesday 30
th
August with your email address (you can disguise your email address using spaces if you feel safer). Good luck and I hope you win xoxo
CONGRATULATIONS jax_cave you have won the double pass to see Kasabian. Enjoy xoxo