I've had a pretty bad asthma attack, which pretty much always happens to me in Japan. Its the mixture of pollution, change of weather, the fact they smoke indoors and various other things such as msg in a lot of the food. All of which are triggers for an attack, combining them all makes the attack rather bad and its meant I've been stuck in bed for the last 3 days, not fun at all. Before I got sick though I did head out to some of my fave stores here in Tokyo.
Wut Berlin
Wut Berlin
is in Harajuku and is run by the lovely Yann who hails from France. The store sells innovative European designers work such as Andrea Crews (who were meant to be coming to Tokyo this week for an exhibition party but due to the Iceland Volcano they had to cancel) as well as local Tokyo designers work too. I love the stores concept:
"In recent years, Berlin has become a place like the heaven for international creators: artists, musicians and fashion designers work hand in hand and constantly develop new trends.
"Wut berlin" will show a selection of young Berlin and international designers in a space which reflects the beauty and the chaos of Berlin city. It is a space that offers prospects, possibilities of change and rediscovery."
As well as the idea behind the amazing tiling which I thought was just for aesthetic purposes:
"Main material of the store is white ceramic squares that express neutrality of individuals. But, the deeper you enter into the store, the more those white ceramic squares start to crack, and they finally become completely broken. This meaning is to reveal inner complexity of individuals"
You can see Yann and the shop girl hiding behind the tree.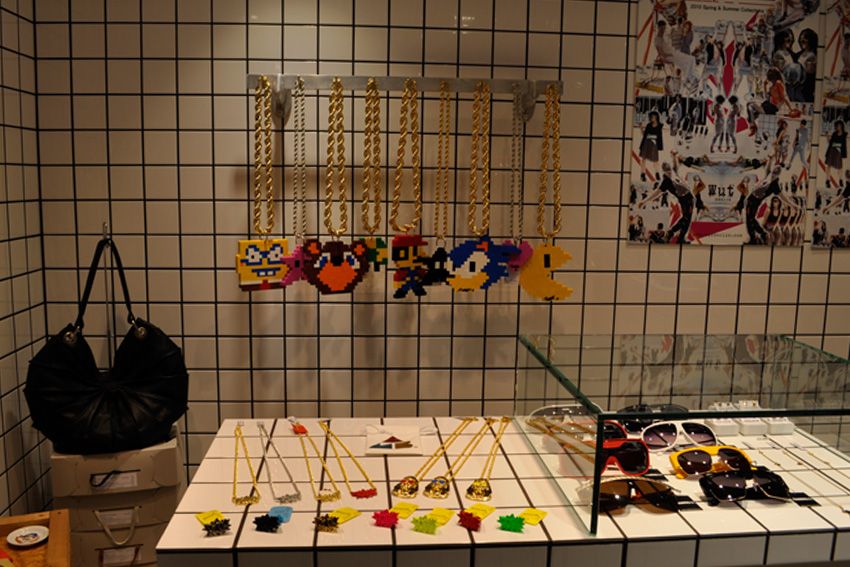 Shoe remodel by Yann. People in Melbourne were saying recently studs were dead, well I would have to say hell no to that because everywhere I look in Tokyo there is something studded.
Candy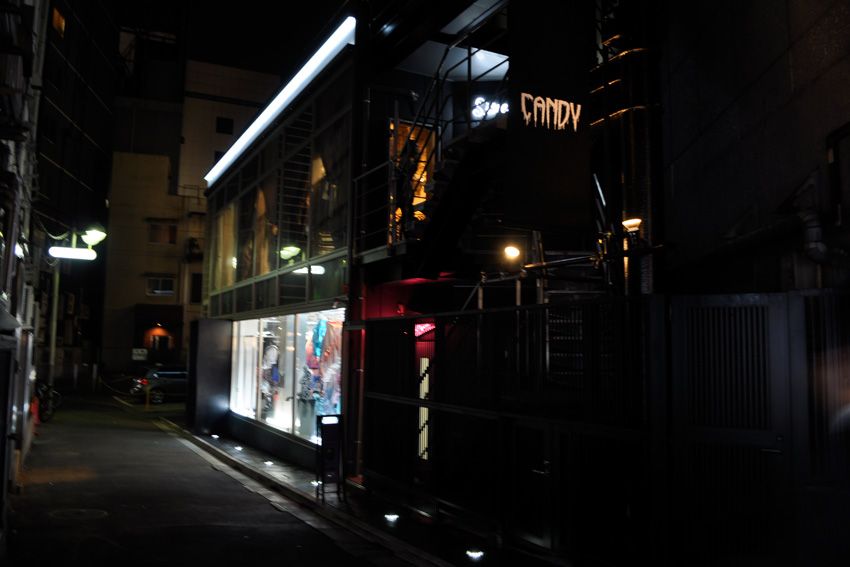 Candy
recently relocated from their out of the way Shinjuku Ni-chome basement store to the right in the heart of the action new 4 level building in Shibuya with them in the prime ground floor spot. In the same building is the famed vintage select store Sister and an exhibition space as well as a as yet unannounced store to open soon. One of the best things about this store is their awesome
blog
so that you can follow what they have been wearing and stocking from back home keeping up to date on Tokyo trends.
Beckii Cruel
Beckii Cruel
is a youtube idol here in Japan (idol is the word used for celeb here). It was pretty random seeing her in Harajuku being filmed for tv and being swamped by fans as it was only the week before I somehow discovered her youtube channel while bored back home one day which lead to me watching nearly all of her videos (see I told you I was bored before I decided to come to Tokyo early!) She is popular with the Akiba otaku set and its all a little sleazy really as there is a slight pedo feel to the whole thing. But she wasn't to know when she started uploading her innocent dancing videos back in her home in the Isle of Mann that any of this would happen, its hard to understand the whole in Japan its ok for grown men to watch young women in school girl outfits dance and be cute to jpop in theatres and cafes in Akihabara and then read pedo rape manga on the train home. I actually bumped into her the next day, again in Harajuku, and spoke to her and her mum (in the background of this photo) and they are just kinda thrilled to be able to have fun with this new found fame in Japan and seeing what happens. It would be exciting to be on tv in Japan and have a dvd and all the other things Beckii now has. I just don't know if they understand the gross elements of it just yet? Or if they care? I don't even know why they should care, maybe it is all just innocent dancing fun.