Waiting for friends inside the invite only Young Designer awards show we bumped into Ruby Rose. As you can see here Ruby Rose and I decided to co-ordinate with silly headbands. Alicia dared me to wear my Mikey Mouse ears, so not one to skip out on a dare I wore them the whole night. Ruby wanted to add that little something to her outfit so she added the horns. "She's the devil in disguise" and all that. Anyway Ruby remembered me from the Who shoot so we chatted for a little while, I have to say I love that girl. She is so grounded and down to earth and well, real. It might help that she went to school with Henry's sister so we have a little connection there, but yeah Ruby Rose is so sweet.
Alicia
with Dion Lee, the well deserved winner of the LMFF Young Designer award prize. We got word of the winner thanks to Twitter and when we saw Dion Lee we rushed over to congratulate him and when I went to introduce myself he said "I know who you are Hayley" which always blows my mind, when people I admire read my blog. But then I realise designers have google trackers that alert them with a link every time someone mentions them, so that is why Anna and Luke from RWB know who I am and a whole bunch of other people I love and have written about. So guys if you want your fave designer to know how much you love them all you have to do is blog about them and they WILL read it!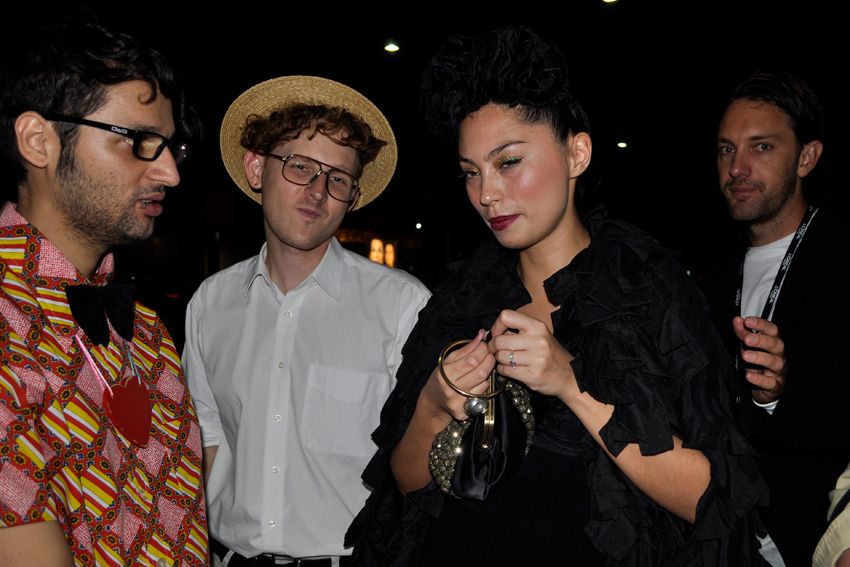 Gary Bigeni, Nathan from Limedrop, Gail Sorronda and Atlas.
Alicia sitting in the curb waiting for the maxi taxi to the Vogue after party with Nathan who is looking lovingly at Atlas sitting next to Gail Sorronda and Anna from Romance was Born.
Gail's hot Fendi shoes.
Finally arrived at the party and who do we see first? Meg Gray the fashion editor at Vogue AU! Makes me miss my pink hair soooo much. Should I do it again?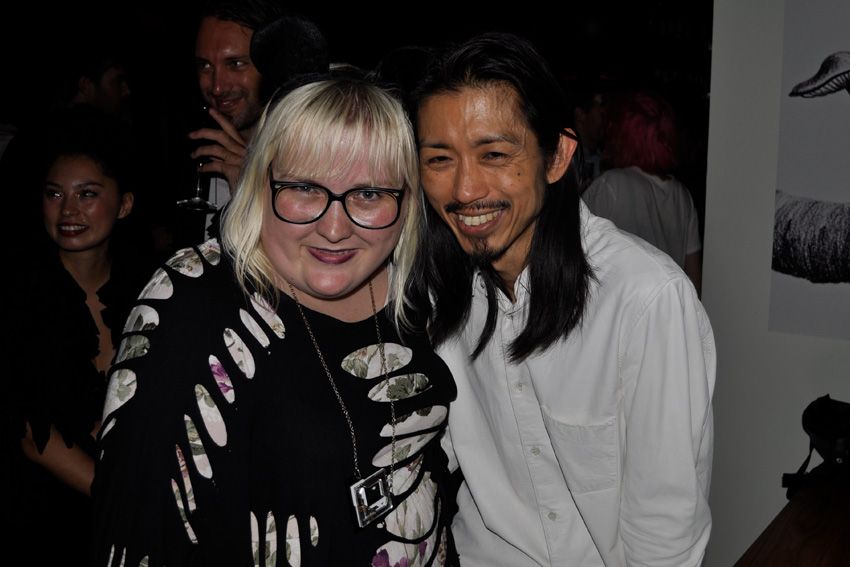 Me with Akira Isogawa, who was transfixed by Alicia's jewellery. We spoke at length about how beautiful Japan is, especially his home town, Kyoto.
The girl from Refinery29.
Nathan and Lui Hon.
Amazing hair/mua who invented the coke can in hair thing way before Lady Gaga, and Anna from RWB.
Also in attendance was Ben from Friedrich Gray who I embarrassed myself in front of immensely due to a few too many G&T's. Oh and Kirstie Clements the Vogue AU editor who I never got to talk to due to a case of nerves. I mean what would I even say to her? Not to mention Kym Ellery who remembered me from the Sportsgirl Super Stylist comp that she was a judge for. After chatting for a while about the difference between the Sydney fashion industry and the Melbourne fashion industry she pretty much convinced me a move to Sydney was in my best interests. Getting home after the party with Australia's fashion royalty and trying to explain the epicness of my night to Henry who was like "Gail who?" "Kirstie what" was a bit of a downer, but I guess only fashion people really know or care right?