I LOVE
Mercibeaucoup
. Have ever since I went to their
Japan Fashion Week parade back in 2007
. I have been eagerly awaiting some runway photos from their Autumn/Winter 2010 show which happened last week, but am yet to find any. So shit that I wasn't there, but am slightly over not being in Japan for 2 months and going to JFW like planned because, yes things are good here (I have to keep reminding myself). Alicia said there will be a reason why I didn't go and I think I know what that is now...some very exciting stuff is happening. Even so, seriously I am like an addict needing a fix of Japan every 6 months and if I don't get it I go through withdrawals good things happening here or not. Anyway lets talk about fashion shall we? These are my fave looks from the above cutesy video lookbook of their Autumn/Winter 2010 collection.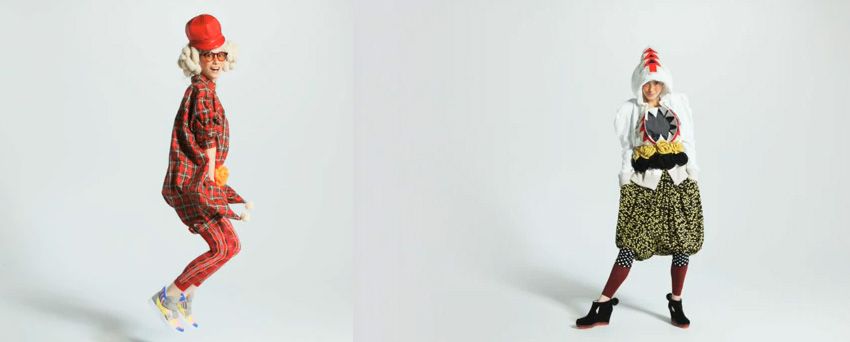 This dress is the one that I want, oh o oh. Tartan, a-line with some faux flowers amazing. Crazy shark bite jumper is so cool, but what I love most is the seemingly bizarre styling that works oh so well. Japan teaches you that actually no, patterns can clash, colours can mash and shapes can, well be shapey, and still look totally cool.
You all know I love a good arms out dress. By that I mean a dress that looks totally amazing when your arms are spread out like when your a kid playing aeroplanes. It mean's you behave more dramatically in said dress, or at least I do, and who doesn't love drama in fashion (or life?). I'm really excited by the big blue rossette scarf thing. Texture, flowers and cobalt blue, remember how much I love you? Oh and the tartan wedges, they are sure to break my heart with Japan's small shoe sizing, with only S, M or L available when I'm at least and LL (which exists occasionally but fits me rarely)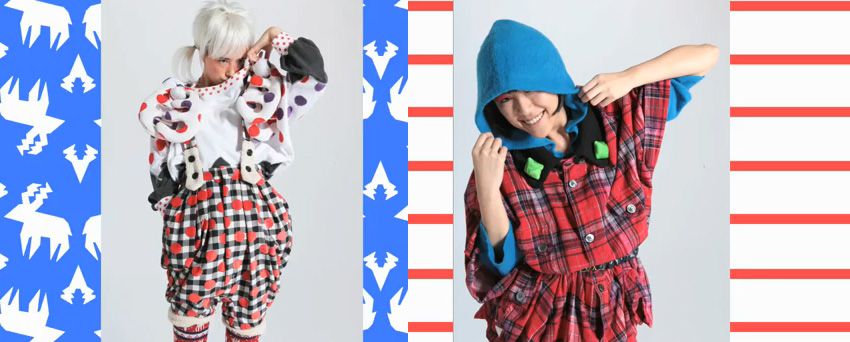 Hold on a minute isn't this jumper the MOST AMAZING jumper ever in the history of Jumpers? Fuck me dead I'm in love. The pantaloons are so kawaii its killing me, oh man what I would give to have this collection available to me for styling, it just gives me so many ideas. Oh and look at their take on grunge, the flanny shirt gets taken to super cute levels with a cinched in waist and non matching collar.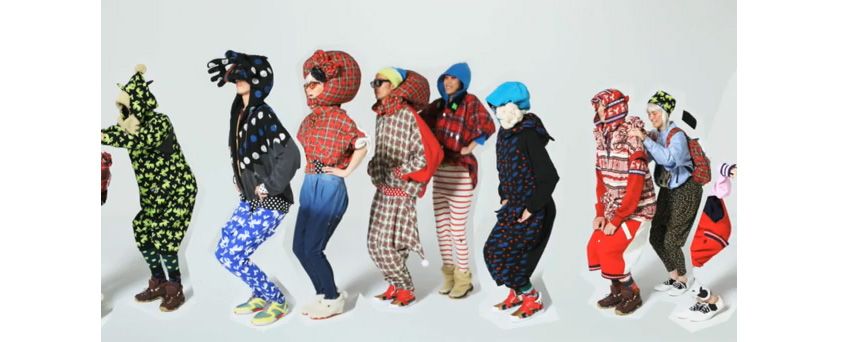 Mercibeaucoup never fail to excite your senses and they ALWAYS deliver a seriously fun collection with equally fun styling to get your mind racing. If you get to go to Japan you have to visit their Aoyama store too, it is like nothing you have ever seen before, a secret entrance takes you into a padded fantasy world. It's my fave spot in Tokyo for sure!