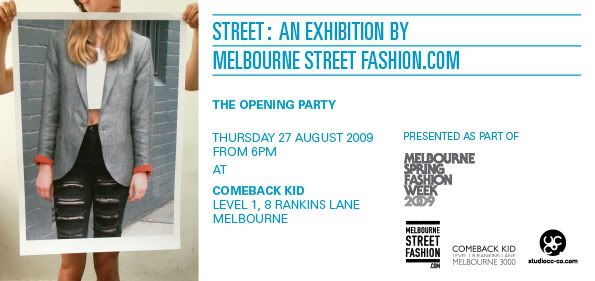 This is the project I've been working like crazy on recently.
Melbourne Street Fashion.com
is having an exhibition as part of Spring Fashion Week at
Comeback Kid
. The opening is on Thursday 27h of August from 6pm. Then the exhibition runs until the 6th of September. I'm really excited to have my photos in an exhibition, and as part of fashion week too! Its a very exciting time for me. I would love to see you all there, please come and say hi. I may be running around like a headless chook but I would love to meet you. Dress up and I will even take your photo, maybe it will be in the next exhibition?
Anyway I still have so much to do so I must be off. I've been reminded that the opening is next week, shit shit shit way too much to do, ha.
I forgot to mention its all 100% free. No tickets needed, just your fashionable self.